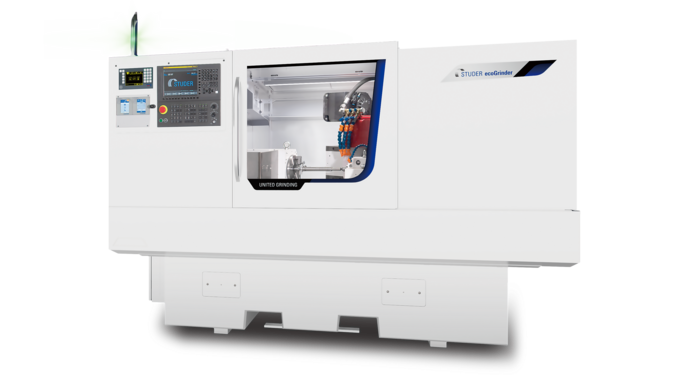 ecoGrinder Extremely cost-effective High precision grinding machine suitable for wide application
ecoGrinder has strong versatility and is suitable for grinding various high-precision workpieces in single and mass production.
With distance between two centers of 650/1000 mm and center height is 175 mm, STUDER ecoGrinder can process workpieces weighing up to 80/120 kg.
If you think that the Studer machine will exceed your budget, we recommend ecoGrinder with high performance but low cost. Thanks to the StuderPicto Program, making programming simple and fast. To a great extent, the Granitan® artificial granite machine bed balances the influence of temperature fluctuation to ensure the stable precision of grinding parts.
Hardware:
wheel head (option):
- Turret wheelhead with one exterior and one interior grinding spindle. Manually swivel with 2.5° Graduation
- External wheelhead with grinding wheel on the right, 0° / 15° / 30°,
The Granitan® artificial granite machine bed
Software:
Using the icon programming interface, programming is easy to learn
StuderGRIND programming software for creating, grinding and dressing programs on an external PC
Linear Axes
Max. Travel Speed X
5000 mm/min
Max. Travel Speed Z
10000 mm/min
Spindle drive
Max. Grinding Wheel Diameter
500 mm
Max. Grinding Wheel Width
110 mm
Workpiece Data
Workpiece Diameter
349 mm
Max. Workpiece Weight
80 kg
Distance Between Centers
650 mm
Linear Axes
Max. Travel Speed X
5000 mm/min
Max. Travel Speed Z
10000 mm/min
Spindle drive
Max. Grinding Wheel Diameter
500 mm
Max. Grinding Wheel Width
110 mm
Workpiece Data
Workpiece Diameter
349 mm
Max. Workpiece Weight
120 kg
Distance Between Centers
1000 mm